2022 Milwaukee Holiday Events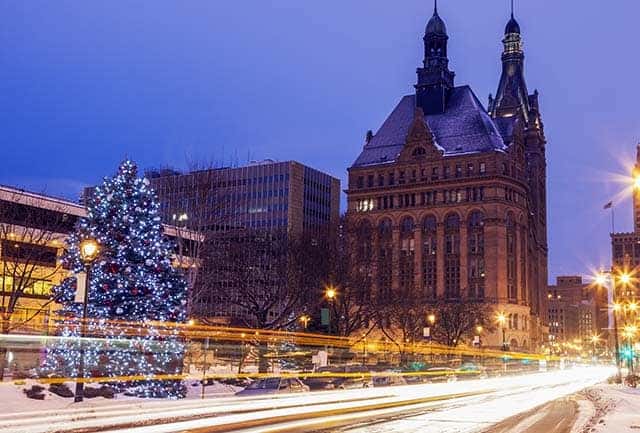 A chill is in the air and soon it will be the holiday season in Milwaukee. There is no shortage of things to do in a big town like ours, so Schlossmann Subaru can help by sharing some of the things we're looking forward to enjoying in 2022. If you need to get the family to all their holiday events this season, see us at Schlossmann Subaru City for a great selection of new and pre-owned family SUVs.
Christmas in the Ward
The annual kick-off to the holiday season happens on December 2nd in Catalano Square this year. At least, it's the kick-off if you pretend you haven't been hearing holiday music since November. This year's Christmas in the Ward event includes live entertainment, fireworks, live reindeer, and the big Christmas tree lighting. The kids can put their orders in with Santa and you can enjoy refreshments like hot chocolate, and food trucks will be on hand to provide lots of ways to fill up.
Food Tours
You know you're going to pack on a few pounds around the holiday, so why not just lean into it and deal with it with a New Year's resolution later? Milwaukee Food Tours offers two holiday-themed events centered around what makes Christmas best: baked goods and desserts. The Christmas Around Milwaukee Bakery Tour features cookies, candies, and pastries from up to eight local bakeries. The Christmas Lights & Desserts Bus Tour lets you enjoy the amazing local light displays while snacking on some delicious desserts. Both tours encourage holiday apparel.
Winter Wonders at Boerner Botanical Gardens
What's better than a holiday event you can enjoy from the comfort of your Subaru? The Winter Wonders light show returns to Boerner Botanical Gardens this year with another amazing display for you to enjoy from your car. You'll drive through 1.4 miles of the gardens lit up with over one million LED lights. You can also purchase a snack pack for your passengers to enjoy while driving through the lights. The light show opens on November 18th and runs all the way through New Year's Day.
What local events are you looking forward to in 2022? Let us know on Facebook or Twitter! When you need to get the family to your next holiday event, Schlossmann Subaru City is your destination. We have the latest Subaru vehicles and a great selection of used cars, trucks, and SUVs! Bring your trade and place a custom factory order to get the perfect Subaru for you.