Subaru Legacy Named one of the Most Reliable Fuel-Efficient Used Cars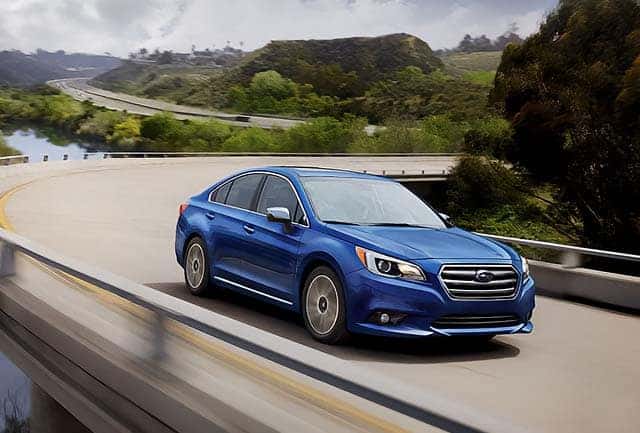 With the price of fuel climbing, there is a lot more interest in replacing an old gas guzzler with a fresh, fuel-efficient ride. Subaru's history of creating fuel-efficient sedans and SUVs makes us a great choice, and the folks at Customer Reports have identified the Subaru Legacy as a great buy for anyone looking for a reliable, used mid-sized car.
The 2017 Subaru Legacy earned this distinction. Consumer Reports rated it a best buy and one of the best choices when it comes to gas mileage. The 2017 Legacy makes an impressive EPA estimated 25/34 city/highway mpg. That's an impressive figure for a mid-sized sedan and more recent models have only improved on this rating.
The Legacy is a great choice for families who don't need the extra space of an SUV or individuals looking for a reliable vehicle for commuting and getting around the streets of Milwaukee. The 2.5-liter Subaru Boxer 4-cylinder engine that comes standard on the 2022 Legacy offers up to 35 mpg on the highway. That helps keep your fuel bill down and the cost of ownership lower over the life of your vehicle. That's more important than ever these days.
The standard symmetrical all-wheel drive on the Legacy makes it a joy to drive, whether you're stuck in traffic on 794 or just picking up groceries at the local Pick 'n Save. All-wheel drive makes your Subaru more sure-footed in poor weather or bad road conditions, making it safer for you and your passengers. It's packed with additional safety features like EyeSight, Pre-Collison Braking, and Adaptic Crusie Control.
At Schlossmann Subaru City, we can get you behind the wheel of a Subaru Legacy. If you're shopping for a new Legacy, we have some in stock and ready to test drive. If you don't see the Legacy you're looking for, then we can help you custom order a new Subaru Legacy. You can build the Subaru of your dreams, from the paint job to the engine. Finally, if it's a used Subaru Legacy you're shopping for, we have a selection of Certified Pre-Owned Legacy sedans. These certified vehicles come with a factory warranty and 24/7 roadside assistance among other great perks!
If you'd like to trade in your old car and get behind the wheel of a fuel-efficient new or used Subaru Legacy, come see us today. It's a great time to save on gas and get a great deal on trade-ins at Schlossmann Subaru City. We'll buy your car even if you don't trade-in! We have the latest Subaru vehicles and a great selection of used cars, trucks, and SUVs! Bring your trade and place a custom factory order to get the perfect Subaru for you.