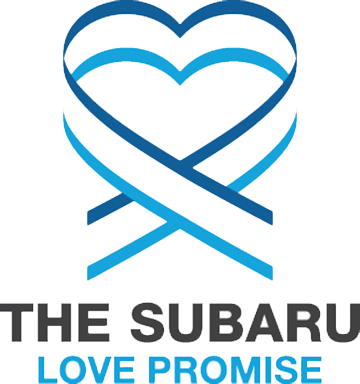 What is the Subaru Love Promise?
Subaru and our retailers believe in making the world a better place and the Subaru Love Promise is our vision of respecting all people. This is our commitment to show love and respect to our customers and to work to make a positive impact in the world.
How is Schlossmann Subaru City of Milwaukee dedicated locally to the Love Promise?
The Schlossmann family and Subaru City are proud of our various partnerships with Milwaukee area charities and non-profit organizations. We're grateful for the opportunity, not only to be a part of our community, but to serve it as well. Our Love Promise can be seen in our continued and enthusiastic commitment to our partners and the causes that speak to our hearts.
FOUNDATION OF WATDA, PULASKI AUTOMOTIVE BOARD
BAYVIEW REDCATS YOUTH SPORTS, Greenfield Police Department
SE/WI CH OF ALZHEIMERS ASSOC
Love Promise Stories from Schlossmann Subaru City of Milwaukee
Subaru and Schlossmann Subaru City of Milwaukee believe in making a positive impact on the communities in which we live and work. We uphold that belief through our Love Promise Community Commitment. Every month, we select inspiring stories from customers and partners from around our area who strive to support our collective commitment and feature them here
Second Chances for Senior Pets at MADACC - Katherine S
Sweet Pea Cindy came into MADACC obviously a super senior with medical issues, possibly having mammary chain cancer. Thanks to the support of our community and Subaru we have the extra funds to handle medical issues and support to be able to give the underdogs a little extra time to find the right adopter. A staff member remembered a special person in the community that would be willing to take home a sweet old lady that may not have a ton of time left and give her a place to retire. She reached out and the rest is history! Having the marketing and financial support of Subaru City has been so helpful!
---
Helping Families in WI Living with Alzheimer's - Mary Pat R
Schlossmann Subaru City of Milwaukee is an important partner for the Alzheimer's Association Wisconsin Chapter. The Subaru Share the Love Program raised critical funds to support programs such as: support groups, care consultations, education programs and 24/7 Helpline, that provides reliable information and support day and night to families across the state. These programs are to be delivered, free of charge, to any families in Wisconsin on a journey with Alzheimer's or dementia thanks to funds raised by partners like Schlossmann Subaru City of Milwaukee. The prevalence of Alzheimer's has reached alarming numbers in our nation. More than 6.2 million people are living with Alzheimer's disease and it is the 6th leading cause of death. The Alzheimer's Association is committed to finding a cure and also advancing our efforts toward diversity, equity and greater Inclusion for underserved communities. One family who participates in education programs shared, "I can't say enough good things about the Alzheimer's Association and presentation of these valuable caregiving skills. I have not only learned facts and skills, I have gained insight to the entire Alzheimer's journey from many perspectives." For yet another family who participates in our monthly support groups, they shared, "The facilitator began the meeting by breaking down the different types of frontotemporal dementia, how they fit together and separately. It was absolutely an "aha" moment. I almost started to cry, it finally all made sense. I understood." Thank you to Schlossmann Subaru City of Milwaukee for the significant impact you have on your community. Your contributions help lighten the load for the more than 196,000 caregivers in Wisconsin taking care of a loved one living with dementia. The Alzheimer's Association is the world's leading voluntary health organization in Alzheimer care, support and research. Our Mission: the Alzheimer's Association leads the way to end Alzheimer's and all other dementia - by accelerating global research, driving risk reduction and early detection, and maximizing quality care and support. Our vision is a world without Alzheimer's and all other dementia. For more information, visit www.alz.org.
---
Milwaukee Hmong New Year - Lo Neng K
The annual Milwaukee Hmong New Year had the honor to be sponsored by Subaru City! The Milwaukee Hmong New Year is the largest Hmong New Year in Wisconsin celebrating the Hmong culture with many performances and traditional Hmong food. Subaru City was able to bring in an amazing display at the New Year and helped our community learn about the services that Subaru City provides. Our community members tremendously enjoyed having Subaru City there! We are so grateful for the wonderful and easy to talk to staffs at the event and we are thankful for Subaru City! Thank you so much for supporting us, the Milwaukee Hmong Community and the Milwaukee Hmong New Year. We are looking forward for this coming year!
---
Milwaukee Subaru City Delives Hope! - Karen R
Milwaukee Subaru City and the Wisconsin Chapter of the Leukemia & Lymphoma Society delivered 80 blankets to Froedtert Hospital on Friday, July 19, 2019. This is the fourth year that Subaru City has made this generous donation through the Subaru Loves To Care program to patients at Froedtert. Nurses accepted the delivery and were thrilled to be able to offer their patients a gift accompanied by a message of hope written by members in the community at Subaru City. Many thanks to everyone at Subaru City and Froedtert, not only for a memorable day, but for supporting LLS's mission to cure blood cancers and improve the quality of life of patients and their families.
---
Subaru City of Milwaukee Loves to Care! - Katie K
The Leukemia & Lymphoma Society was fortunate enough to work with Subaru City of Milwaukee again for the Subaru Loves to Care program. During the month of June, customers from Subaru could fill out messages of hope that would be sent to cancer patients. Upon the delivery, Subaru gathered the messages of hope along with the co-branded blankets and did a delivery with LLS to Froedtert & The Medical College of Wisconsin. The nurses and admin at Froedtert were so excited to be sharing the blankets with their patients knowing the comfort they'd receive from them, as well as the inspirational messages of hope that would provide a sense of brightness during the challenging times they are facing. The nurses mentioned they had a feeling the blankets wouldn't last long as their patients love them! A big thank you to Jeremy and the rest of the team at Subaru City for helping make this happen. Your contributions bring a sense of love, hope and warmth to patients and their families in the community and truly brightens their day!
---
Subaru City of Milwaukee delivers HOPE! - Naomi G
The Leukemia & Lymphoma Society is honored to partner yet again, with Subaru City of Milwaukee for the month of June. Subaru City was able to bring hope and warmth to local cancer patients at Froedtert Cancer Center. Bruce Larsen from Subaru City of Milwaukee along with Froedtert staff were present for delivery of co-branded (LLS & Subaru) blankets to patients at the Cancer Center. Thank you Subaru for building a culture of love and giving-back!
---
Greendale's Journey to Macy's Thanksgiving Parade - Tom R
For the 2016 Macy's Thanksgiving Day Parade a local High School was chosen to perform. The award winning Greendale High School Band has been selected to make this once in a lifetime trip for these kids. To be able to get all 200+ students and their equipment to New York and perform in front of 3 million people down the streets of Manhattan, and in front of 50 million people on NBC they need to raise approximately $250,000. Our Dealer Principal, Michael Schlossmann, volunteered to donate $20 per vehicle sold here during both months of March and April. The Greendale High School is very excited about this opportunity to raise funds for an experience of a lifetime and perform in a National Spotlight.
---
Hosts a Fundraising Event for the Alzheimer's Association - Kendra A
The Alzheimer's Association is working to advance research to end Alzheimer's disease and to enhance the care of those living with the disease. The difficult reality of Alzheimer's effects on individuals and families hits close to home and The AA's vision of a world without Alzhimer's is one that we share and support at every given opportunity. In 2013 $50 was donated from the sale or lease of every new Subaru vehicle sold at Schlossmann Subaru City. The event, which raised more than $6,000, stands as one our proudest sales experiences, and has allowed us the opportunity to work with an organization that is making real gains in the eventual elimination of Alzheimer's and dementia.
---
Long-term Partnership With The Humane Animal Welfare Society - Johanna S
The Humane Animal Welfare Society is an animal shelter and network of passionate volunteers that has been serving Waukesha County since 1965. HAWS offers adoption, dog training, kids camps, spay and neuter programs, and humane pet education. We've been working with HAWS since 2010 and have played host to adoption events, provided raffle prizes, event sponsorship, and have created a number of videos featuring adoptable animals to be shared on our webpages and in conjunction with the HAWS newsletter. The HAWS facility accommodates more than 6,000 animals a year and their members work tirelessly to provide education and support to the citizens of Waukesha County and South-Eastern, WI while managing the care necessary to shelter, rehabilitate and place animals into loving homes. We look forward to continuing to support the amazing people and animals at HAWS!
---
We are proud to support the City of Greenfield Police Department! - Brad W
In 2012, as part of our commitment to support those who shape our community and make it a better place to live, we donated a two year courtesy lease of a specially equipped Subaru Impreza WRX STI to the City of Greenfield Police Department. The vehicle, which was outfitted to accommodate the full range of police capabilities, is not only used as an enforcement vehicle, but according to Greenfield Police chief Brad Wentlandt "It's a great way to connect with the community and sparks dialog with the officers". We are proud to continue our work with the Greenfield P.D. and their contribution to the residents of our great city.
---